CloudMe Easy Upload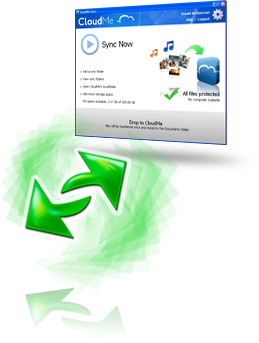 You have not fully experienced CloudMe until you download and install CloudMe on your computer. With CloudMe installed, your computer will automatically make sure that everything in the CloudMe folder is available in the cloud.
CloudMe Easy Upload used to be the installed version of CloudMe on local computers, but has now been discontinued and replaced with the more powerful CloudMe Sync, which offers all functionality of CloudMe Easy Upload, but the improved capabilities of downloading from CloudMe and keeping folders in sync between a local computer and CloudMe. The new Drop to CloudMe feature has also been introduced for immediate uploading to CloudMe.
All previous users of CloudMe Easy Upload can safely upgrade to CloudMe Sync and take advantage of the hotsync features and the newly introduced CloudMe folder. Your configured upload folders will remain and continue to upload as before.
Choose your operating system in the menu to the right to download CloudMe Sync. CloudMe Sync can safely be installed on top of a previous Easy Upload installation.